The sleeve is connecting
Connecting equipment
Purpose
The sleeve is connecting, (an analog of a sleeve 55004) it is applied at measurement of pressure of environments with a temperature which is exceeding the limit of the operating range of temperature of a measuring device. For creation of normal temperature conditions connection of a membrane divider with the measuring device has to be carried out or through a connecting sleeve, or through the bringing tube which is established by the consumer between a point of pressure tap-off and a divider.
Pressure converters measuring pneumatic GSP always connect to a divider by means of a sleeve.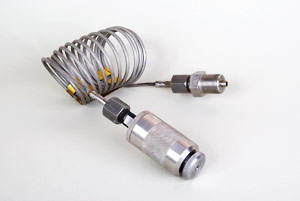 Execution option "A sleeve connecting assembled with the samopodzhimny patron"
Shift when mounting a divider with a connecting sleeve on height is allowed, at the same time it is necessary to consider an error of the installation of a measuring device with an upper limit of measurement to 1 MPa determined by the hydraulic pressure of a column of dividing liquid in a connecting sleeve.
Product Specifications:
| | |
| --- | --- |
| Maximum pressure | 60 MPas. |
| The standard sleeve connecting in the unrolled state has length | 2,5 meters. |
| Material | stainless steel 12X18H10T. |
By the separate order the sleeve of any length, but no more than 5,0 meters is made.
Connecting plug
The connecting plug with an external thread of M20x1,5
Connecting M20x1,5 union
Capillary tube
Nut of M20x1,5
For more information contact our sales department by phone. +7(495) 255-22-96, +7(495) 781-88-63.
---
We also recommend