Connecting equipment
Purpose
Connecting hose, (analog of 55004 hose) is used when measuring the pressure of media with a temperature outside the operating temperature range of the measuring device. To create normal temperature conditions, the diaphragm seal must be connected to the measuring device either through a connecting hose or through a supply pipe, which is installed by the consumer between the pressure tapping point and the seal.
Pneumatic pressure measuring transducers GSP are always connected to the separator by means of a hose.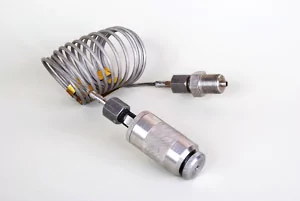 Execution option "A sleeve connecting assembled with the samopodzhimny patron"
Displacement is allowed when installing a separator with a connecting sleeve in height, while taking into account the installation error of a measuring device with an upper measurement limit of up to 1 MPa, determined by the hydraulic pressure of the separating liquid column in the connecting sleeve.