Set for checking and measuring "POISK"
Purpose:
Testing and measuring POISK complex autonomous, portable and fast workplace expansions. It is intended for checking of measuring instruments of pressure by a comparison method of indications, in the range of pressure from minus 0,1 to 60 MPas, and also: repair, molding and checks of tightness different technical products (cranes, valves, highways, etc.).
The POISK complex provides digital indication of the measured pressure in the following units: millimeters of mercury, Pa, kPa of MPa, kgf/cm2.
BASIC EQUIPMENT OF "POISK"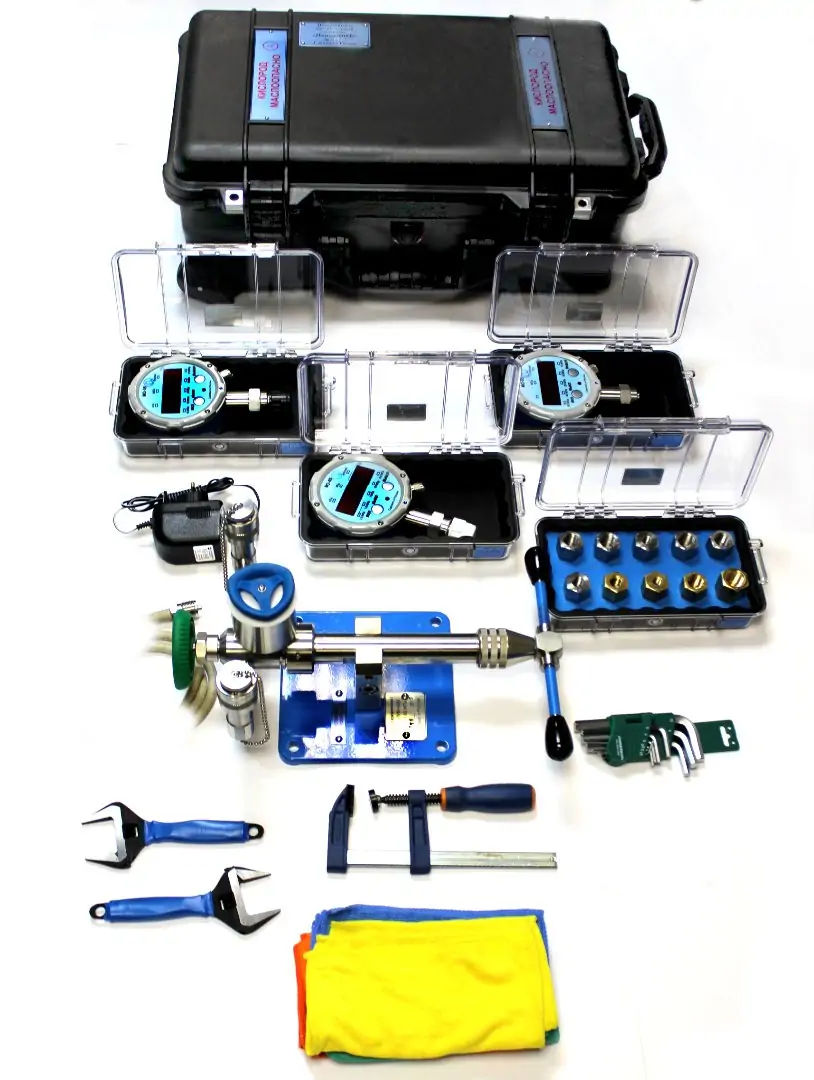 | | | |
| --- | --- | --- |
| Name, type | Designation | Quantity |
| The case No. 1, protective | Case | 1 |
| The press is portable universal | PUM60M | 1 |
| Manometer digital indication of -0,1-2,5 MPas | MO-05 | 1 |
| The manometer with digital indication of 0-16 MPas | MO-05 | 1 |
| The manometer with digital indication of 0-60 MPas | MO-05 | 1 |
| Case No. 2 protective for the manometer with digital indication of 0,4-2,5 MPas. | Boxing | 1 |
| Case No. 3 protective for the manometer with digital indication of 0-16 MPas. | Boxing | 1 |
| Case No. 4 protective for the manometer with digital indication of 0-60 MPas. | Boxing | 1 |
| Case No. 5 protective for a set of adapters. | Boxing | 1 |
| Ring rubber GOST 9833-73 | 080х012х25 | 4 |
| Ring rubber GOST 9833-73 | 016х020х25 | 2 |
| - union | М20х1.5/G 3/8 | 1 |
| - union | М20х1.5/G 1/8 | 1 |
| - union | М20х1.5/G 1/4 | 1 |
| - union | М20х1.5/G 1/2 | 1 |
| - union | М20х1.5/М18х1,5 | 1 |
| - union | М20х1.5/М18х1,0 | 1 |
| - union | М20х1.5/М16х1,0 | 1 |
| - union | М20х1.5/М16х1,5 | 1 |
| - union | М20х1.5/М12х1,5 | 1 |
| - union | М20х1.5/М10х1,0 | 1 |
| - adjustable spanner | | 2 |
| Clamp of L-of 100 mm | | 1 |
| - key hexagon (set) | | 1 |
| Operation manual | РЭ | 1 |
| Protective cap | | 3 |
| AA lithium batteries | | 9 |
| The network adapter 220B - Mini USB | | 1 |
| Set of napkins | | 1 |